Luxurious Beachfront Condo - Holiday Isle
*You must be 25 years or older to book. No exceptions. *

Enjoy a luxurious stay with your family at this beachfront property with the best gulf-front views in Destin. This remodeled condo's high-end amenities will transport you to an oasis of bliss – where comfort rules all, chores are off limits, and you never settle for less than the royal treatment.

Who knew cooking could be enjoyable? After you see our kitchen's brand-new, stainless-steel appliances and granite counter tops, you'll see what we mean.

Sandy feet and carpeting are never a good match. With brand new porcine flooring, dirt and stink will be the least of your worries.

Tired of going on ice runs? With our ice maker, you'll spend more time sipping your refreshing iced tea and less time fighting traffic.

A 95-degree day calls for a cool, refreshing glass of water. Avoid the Florida water altogether with filtered H2O – always cold, always delicious.

Extra expenses can add up -- so save some pocket money with in-house sand chairs and an umbrella.

Unlike most condo rentals, we provide three high-definition 4K TV's with cable for sports enthusiasts. Enjoy free WiFi and Netflix on rainy days, and keep the kids occupied with an Xbox for romantic beach evenings!

Your vacation home should be just as inviting as the beach outside. The walls in the main room have slate down one side of the condo and smoked glass down the other, giving a very spacious and modern Italian/Asian feel.

Leave the white noise machine at home. The sound of the waves will lull you into deep relaxation, and our two queen memory foam mattresses will keep you sleeping like a baby.

Enjoy the best of both worlds on Holiday Isle: a quiet, relaxing beachside atmosphere and proximity to downtown Destin's exciting, fast-paced nightlife.

From golfing, snorkeling, shopping, and lounging on the beach, Destin has something for everyone.

You only live once. For a couple of extra bucks, live in luxury.

And snorkel with dolphins.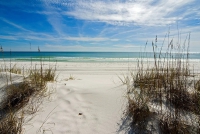 No Visitor Reviews Available