Brand new amazing home and golf cart
Heated pools and hot tubs on site

Beautiful brand new resort home built for Airbnb! Four king sized beds with four in room Bathrooms and a six kid bunk bed on the second floor that could hold even 8 possibly . Comfortable for a family of four but also Sleeps 14 easily!! Has a beautiful gally style pantry with natural lighting and a beautiful open floor plan with a large kitchen . This home is truly amazing and is fully loaded . Has either a 2021 4 seat golf cart or a 2020 6 person golf cart as well to use . Has a jacuzzi lighted tub with amazing jets . Has all 4K UHD TV's - 2 are 65 inches and has a boosted wireless internet signal that beats anyone in the area . Has a home theater system too for amazing movie watching and two HTS chairs .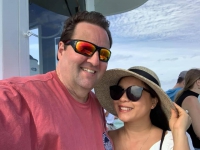 No Visitor Reviews Available