WOW- BLUE SURF 10A is READY FOR SUMMER!
The time to go to the beach is NOW!  Who isn't ready to head to the amazing white sands of Miramar Beach!
The Blue Surf neighborhood is a terrific and classic Emerald Coast condo, small in size and yet full of convenience!
The small size of the complex, with only 34 units, makes for a comfortable and relaxing atmosphere for all guests.
Step out onto the green lush landscaping with plenty of space to throw a Frisbee or a ball, a comfortable pool and incredible accessibility to the Emerald Coast white sand as far as you can see.  You can even enjoy a game of shuffleboard,a family favorite!  Parking is so easy at Blue Surf 10A....... no searching for parking in crazy crowded lots... you have a reserved spot just steps away for your convenience.
FREE BEACH SERVICE IS INCLUDED FROM MARCH THROUGH EARLY NOVEMBER!
We have found it makes the difference in the amount of fun/comfort/relaxation you have on the beach.
Daily from 9AM to 5PM there are 2 cloth and wood chairs set up for your convenience along with a lovely umbrella.
Simply carry a cooler, a book and your sun screen and relax alongside the incredible Emerald Coast
Blue Surf 10A is ideal for a couple with a lot of space for living at the beach for the week.  A newer fully equipped kitchen, a new in-unit washer/dryer, comfortable linens provided and amazing chairs on the patio make for a great time at the beach.  You are going to be amazed at how relaxed this place can make you feel.  The beach-themed decor helps bring down everyone's blood pressure!   The bathroom features a very nice walk-in shower that is great for rinsing the last of the sand off of you before a great night out for dinner.
Blue Surf is well positioned along Scenic Gulf Drive, literally across the street from Pompano Joe's, a 3 minute walk to the Dairy Queen and Bad Ass Coffee, and dozens of other restaurants and retail shops within a couple of miles.  Or don't go anywhere else and just relax at Blue Surf 10A.
Other Points to Note:
Must be 25 years old (minimum) to rent
No smoking unit
No pets allowed
New washer/dryer located in the unit.... so easy and close at hand.
Linens are included, but you need to bring your beach towels!
The bedroom has an alarm clock, USB port on the bedside table, laundry basket, hairdryer and TV with cable
The living room has a very nice TV, with cable and a Blu Ray/DVD player
Beach and pool toys are provided for your use while you are visiting
There is so much to love about staying at Blue Surf 10A.. we make it very friendly and comfortable.  The majority of our guest are repeat visitors, something that we truly appreciate.  Our family has been coming to Blue Surf since 1994 and got the chance to purchase Blue Surf 10A and 10AB in 2012.  We hope that you will consider making wonderful memories here as well!
If you are interested in a 2 bedroom unit, please visit our Emerald Coast By Owner site #7304.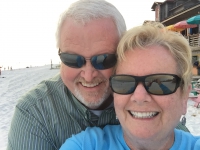 No Visitor Reviews Available