Two Story Beach House Emerald Shores Gated
Emerald Shores is a private gated luxury beach community. It boasts beautiful tropical landscaping in a planned community of interesting architecturally compatible houses featuring tiled roofs and colors of the gulf. The house is only a few minutes to the beach. The private gated Emerald Shores Gazebo is right on the beach and has elevated decks, tables, deck chairs, restrooms and lights for night activities. There are two pools close to the house, and a tennis court and basketball goal. 

Emerald Shores is located between Emerald Coast Parkway 4-lane (Hwy 98) and Scenic (Hwy 98) which runs right next to the beach.It is about one mile east of the midbay bridge. This makes it easy to travel to nearby Sandestin, Baytown, Grayton Beach, or Destin proper. Destin Commans and other shopping areas are nearby featuring resturants, retail, food stores, etc. So if you want to check out the beach, shop, play golf, fish, dance, meet new people or just relax, we hope you will choose Emerald Shores 

20 Pearl Cove (Casa del Sol de Brazil) for your vacation or getaway trip. Call Charlie Black (901) 486-7376 to schedule your beach escape.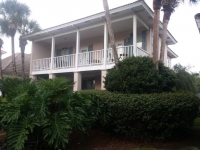 No Visitor Reviews Available