Destin Coral Sands
***Note: Please check rates on direct booking site by clicking the "Book Now" button***

"Destin Coral Sands" - Live the perfect Florida vacation at our FULLY LOADED Destin getaway! This home is for multiple or large families who want to enjoy their time together. Our home is very unique to this area as it boasts one of the LARGEST BACKYARD SPACE available with multiple gathering areas, TONS of AMENITIES, stylish and fun decor, along with split layout of 2 SEPARATE HOMES!! 3 bed/2 bath main home which can sleep 8-10 and a seperate 2 bed/1 bath guest house that can sleep an additional 6-8 people. You will absolutely love the professionally designed and decorated, very stylish and vibrant bedrooms and gorgeous living spaces, not your boring all-white everything!  There is also a separate large INDOOR GAME AREA with air hockey, shuffleboard, arcade, pool table, 20+ board games, an OUTDOOR KITCHEN with tiki bar, outdoor dining, MINI-PUTT, Yard games. The best of all is that the sugar sand beaches are just 5 mins walk on a straight road, Destin Commons with shopping and restaurants just 2 mins drive away, multiple golf courses and Crab Island a short drive away

BRAND NEW SALTWATER POOL with TANNING LEDGE,  middle bottom allows for water volleyball, equipped with 48000BTU gas heater that can get the water temperature to 94F! LARGE SANDPIT PLAY AREA that brings the beach experience to your doorstep, gas fire-pit, outdoor movie theater, pergola with additional seating space, enough parking space for RV or boat trailers.

Do you need...

...sleeping for 16 people that accommodates multiple families, multiple kitchens, multiple living spaces and designed to entertain kids and adults?
...beach access just steps away?
...a huge outdoor kitchen and tiki-bar, private entertaining area?
…multiple activities with resort style amenities - mini-putt, yard games, indoor game room, kids play area?
...private (seasonally heated)amazing pool with a tanning ledge?
…a firepit with an outdoor movie theater??
...a central location to Destin's best shopping, dining and entertainment?
…professionally designed and curated bedrooms, furnishings and decor?
…pet friendly?
…kid friendly with plastic utensils, high chair, pack n play??
If that's your checklist, then it sounds like you may be searching for Coral Sands!!

Not your plain vanilla vacation rental! Designed as a fun getaway for the whole family that your kids will remember forever, Coral Sands has been planned from the ground up to be as memorable as the beach itself!

During the day, Coral Sands offers an endless variety of options for creating active family memories. Located just 3 blocks from the Tarpon St beach access means no loading up the car and no crossing busy highways in the summer heat to get to the beach. In fact, it's less than a 5 minute walk from Coral Sands's front door down a straight path to our incredible sugar sand beach. Coral Sands provides all the beach gear you will need to make your beach day a memorable and comfortable one. This includes 12+ beach chairs, 2 loungers, 2 foldable carpets, 2 canopy style umbrellas, 2 beach carts, cooler, beach toys for kids, boogie boards for adults and kids, kid life jackets, snorkeling gear. Tarpon beach access also has umbrella rentals, paragliding, and water sports. There are no big condos at this access so the beach is not as crowded.

Need a chillax day? Have the kids swim in the brand new full-size heated saltwater pool. Saltwater pools keep your skin free of chemicals avoiding harshness of skin, Low or no chlorine smell, Pool water feels smoother and softer. The pool has a tanning ledge and is designed with a 5 ft deep end in the middle, so that groups can play water volleyball with shallow ends on both sides or split up in groups if needed. The pool is seasonally heated (extra charge) with 48000 BTU gas heater that can get the water temperature up to 96F!! Who needs a hot tub?? Pool is expected to open July 1st 2022 or sooner.

Need a space that is large enough to have an event where everyone can gather 'round? It's unlikely that you'll find a larger private outdoor entertaining area that is closer to the beach than Coral Sands' .In the evening, everyone can gather around the outdoor dining area. The grill masters can demonstrate their cooking skills on the 5 burner gas grill. The outdoor kitchen and tiki bar is equipped with a bar sink, 300 can mini-fridge, table-top ice maker and plenty of storage for all your food and drinks. Others in the group can relax on the covered porch, watch sports or movies on the large 65 in Smart TV. Kids and adults can enjoy a game of mini-putt, or challenge each other to a game of cornhole, rings, giant jenga.


Did rain ruin your plans to go out or just need a break from the sun? The game room is going to be every kids and adults favorite hangout spot with multiple arcade games, shuffleboard, air hockey, pool table, 20+ board games and a large 65 smart TV. Coral Sands' family game closet is curated to be both entertaining and to create family bonding time. Don't miss taking your selfie and instagram shots in front of the amazing mural with a map of Destin and all the major attractions!!

After the evening meal, everyone can gather around a cozy wood burning fire pit (July 22) in the sandpit. Set-up the outdoor movie theater and put on your favorite movie using our outdoor movie theater kit.

Ready for bed? While the grown ups will enjoy the 3 high quality king beds, the kiddos will love the bunk beds. Don't forget to utilize the 2 pullout sleeper sofas (one in main house and another in guest house) and air mattress for additional sleeping arrangements! Whichever bed you choose, enjoy a great night's sleep in mattresses that are so decadently comfortable that you will not want to leave. Crisp linens, luxe pillows and comfortable quilts will tuck you in.

The split layout is amazing as it allows for a completely self-contained separate house for elderly group members, or so that multiple families can have their own kitchen and private areas, or so that the kids can have their own space. Do you have senior family members or mobility-challenged members in your party? The main house offers first floor living, pool access, outdoor entertainment areas with no stairs to ensure that all family members are included in your newly minted memories.

The following morning, start your day with coffee and waffles. Each house is equipped with a Hamilton flex coffee maker that can brew regular carafe of coffee or can brew k-cups. We provide starbucks coffee (medium roast), k-cups, creamers, sweeteners, sugar, stirrers so that you can start your morning without a hitch. The guest house has a small balcony that is great to watch the sunrise while taking in your coffee. The two fully equipped kitchens (main house and guest house) boast stainless steel appliances, all the utensils/cookware/glassware you will need for breakfast, lunch and dinner (mixers, waffle maker, stirrers, pots, pans, etc.) In the main house, share your meals at the 6-seat dining table or choose to dine al fresco on the patio

Going out to eat or shop but hate traffic? Us, too! Destin Commons, the area's premiere shopping, entertainment and restaurant complex (complete with an Imax theater, a massive Bass Pro Shop, and plenty of shops and restaurants) is right across the street from Coral Sands' neighborhood.

There are many vacation rentals, but only one Coral Sands experience. We know you'll be dreaming about this space for years to come after you've spent some of your best moments here.

***MAIN HOUSE***
1st Bedroom (Main House):
- King Bed (sleeps 2)
- Dedicated Office desk and chair
- separate reading area
- Indoor Fireplace
- 55'' Smart Roku TV
- Large Closet
- Pack n Play
- Washing Machine/ Dryer

2nd Bedroom (Main House):
- King Bed with Pool View (sleeps 2)
- 55'' Smart Roku TV
- Shared bathroom

3rd Bedroom (Main House):
- Full/Full Bunk Bed (sleeps 4)
- Kids Tent Area
- Shared Bathroom


Living Room (Main House)
- Queen Sofa Bed (sleeps 2)
- Shared bathroom
- 50'' Smart Roku TV
- Indoor Fireplace

Kitchen/ Dining (Main House)
- Stainless steel appliances
- Dinner set for 12
- Dining table for 6-8
- Kids dinner set for 4-6 kids + high chair
- Waffle maker, toaster, instant pot, mixer, pasta strainers, bakeware, storage containers, coffee maker
- Ask us if you are looking for something specific

***GUEST HOUSE***
4th Bedroom (Guest House):
- King Bed (sleeps 2)
- Shared bathroom

5th Bedroom (Guest House):
- Full/Full Bunk Bed (sleeps 4)
- Shared bathroom
- Dedicated office desk/chair

Living Room (Guest House)
- Queen Sofa/Bed (sleeps 2)
- 55'' Roku Smart TV

Kitchen/Dining (Guest House)
- Stainless steel appliances including full size dishwasher
- Washing Machine/Dryer
- Dinner set for 8
- Kids set for 4-6 kids
- Toaster, instant pot, mixer, pasta strainers, bakeware, storage containers, coffee maker
- Ask us if you are looking for something specific

***BATHROOMS***
1st - Master Bathroom (Main House) - Tile standing shower with dual shower heads
2nd - Shared Bathroom (Main House) - Tub Shower
3rd - Shared Bathroom (Guest House) - Tub Shower
4th - Outdoor Shower (July '22)



***GUEST CONSUMABLES/LINENS***
- Dispensable Hand Soap, Body Soap, Shampoo, Conditioner provided (not just a starter kit)
- Hair Dryer, Q-Tips, Cotton Balls in each bathroom
- Dishwasher pods (2 pods per night)
- Washer Pods/Dryer Sheets (2 per home per stay)
- Starbucks Medium Roast Coffee + K-cups variety pack
- Stirrers, Sugar, Green Tea, Creamer, Salt, Pepper, Spices
- Aluminum Foil, Parchment Paper
- Paper Rolls, Trash Bags (2 per stay per trash bin), Separate recycle bin
- Bath towels, make-up towels, Separate Beach Towels


***GAME ROOM***
- Beach Gear (2 carts, 12+ beach chairs, 2 umbrellas, 1 cooler, beach games/toys, boogie boards, life jackets)
- Pool Table/Air Hockey combination table
- Shuffleboard
- Foosball Table
- 20+ Board Games (catan, telestrations, poker set, card games, etc.)
- 65 Roku Smart TV
- Arcade Machines - Pacman, Ridge Rider

***OUTDOOR KITCHEN/TIKI BAR***
- 5 Burner Gas Grill with grilling utensils
- Mini Fridge (300 Can cooler)
- Tabletop Ice Maker
- Bar Water Sink
- Outdoor Dining with seating for 8
- Outdoor 65'' Roku Smart TV
- Mini-putt (Golf)
- Yard Games (Giant Zenga, Cornhole, Connect 4, Ring Toss)

***POOL, OUTDOOR SHOWER, SAND PIT, MOVIE THEATER" (Starting July 1st, 2022 )
- 14' X 28' Saltwater Swimming Pool with Tanning Ledge
- MIddle bottom with shallow ends on both sides
- Floaters, inflatable volleyball net
- Loungers
- Outdoor Shower
- Pergola with additional hangout space
- Sandpit with Kids Play area
- Wood burning Fire Pit
- Outdoor Movie Setup Kit

***PARKING***
- Parking permit for 6 cars but can comfortably fit upto 8
- Enough space to park your trailer or boat

***MISC***
Cox Gigablast WiFi (1GB/sec) Ultra-Fast Download Speed with mesh wifi that covers all areas including pool

***SECURITY CAMERAS***
There are two external security cameras facing the parking lot. Both cameras are on 24/7, have the ability to record audio/video and are motion triggered.Guest accessOver the last couple months, we have put our hearts into this house to make it stylish, comfortable and fun for every group any time of the year. Unfortunately, the pool, firepit, sandpit area will not be ready until July 1st, 2022 (see picture for site map) but we are excited to share the rest of this property with our guests at deeply discounted rates in May/June. Other than being only a couple blocks from the beach, there are plenty of other amenities that will keep your group completely busy and entertained .

Please note that while the pool construction area is fenced off and separated from guest areas/parking, you will be able to see pool construction in progress and may occasionally hear some construction noise. The parking area is gravel and may see some construction material stored on the sides, but will not interfere with your parking or vacation. Please send us a message with any questions.Other things to noteSmoking Policy:
This is a smoke-free property. Violation of the no-smoking policy will result in forfeiture of the security deposit, a $300 smoking fee, and liability for any fire or property damage costs.

Quiet Hours:
As part of our commitment to being good neighbors, quiet hours (11pm-6am) are strictly enforced. The City of Destin requires QUIET TIME to be 10PM - 6AM for this residential property. Violation of any noise ordinances will be subject to fines that can reach up to $10,000 per violation.

Occupancy Limits:
Per City Code, the Maximum Permitted Occupancy is 16 INDIVIDUALS, including guests. Exceeding the maximum occupancy limit will result in a fine from both local authorities and the host of $250. A breach of this rule will also result in the guest being asked to leave.

Parties/ Events:
Events or parties are not allowed without prior written approval and an additional fee. Any unauthorized parties or events will be shut down and a fine will be assessed. Please inquire for more information about our event policies and fees.

ID Verification:
IDs will be requested for verification after booking. All bookings over 30 days require a security deposit.

Parking:
There is free parking for 6 vehicles. Please do not park on the street. There is a fine for street parking.

Age Limit:
We welcome any responsible group (additional fees apply if under 25 see below). If the majority of the adult guests are under 25 we require an additional $750 refundable damage deposit paid separately after you book. If everyone is under 21 we do not allow alcohol on the property.

Our address is 4571 Luke Ave, Destin, FL

Pool & Spa:
- The pool and hot tub are USE AT YOUR OWN RISK with NO DIVING ALLOWED in each. The hosts are not responsible for any injuries that result from the use of the swimming pool.
- Children must be supervised in the pool area at all times.
- No running.
- The pool will be professionally cleaned every Tuesday and Saturday during the high season (March - September) and once a week on Saturdays the rest of the year
1 day notification is required in order to heat the pool. An additional pool heat fee of USD50 per day must be paid prior to check-in.

Refund Policy:
- There are NO REFUNDS allowed for Weather, Natural Disasters, Power Outages, and other circumstances that are beyond our control.

Towels:
- Please wash beach towels and bath towels SEPARATELY.
- Use dark towels to remove makeup.
- Please DO NOT take bath towels to the beach.
- When departing, please place dirty towels and bed linens inside the shower/bath tub. DO NOT TAKE OFF the mattress pad protectors.

Grill:
- Grill tools are available in the outdoor kitchen.
- Use the grill brush (located in the grill cabinet) to clean the grill before and after use.

Pets:
WELL BEHAVED pets are welcome with a separate non refundable pet fee of $150 per 2 pets per stay. Please clean after your dog and keep our backyard ready for the next guests.

Please note that dogs are not allowed on the Destin or Miramar beaches.
Few counties allows local residents with dog-on-beach permits to walk their leashed dogs on the beach, Walton County property owners or permanent residents must obtain a permit from the county clerk each year to walk dogs on the beach. However, there are a few dog parks and you are welcome to walk with your dog in our neighborhood and along the promenade.

Check-In & Check-Out:
- Due to the size of this property, our cleaners require the full amount of allotted time to ensure the highest standard of cleanliness and sanitary guidelines. Because of this, there is NO EARLY CHECK-IN OR CHECK-OUT allowed. If you overlook this rule, the host reserves the right to charge $75 per hour past the Check-Out time.
- If we receive word from our cleaner that the property will be ready ahead of the scheduled Check-In time, we will communicate to the guest and let them know the property is ready for them ahead of schedule.

NOTE: Spring Break Restrictions: Please note that during Spring Break (March - April), you must be 25 years old to reserve Coral Sands. We're sorry, absolutely no exceptions.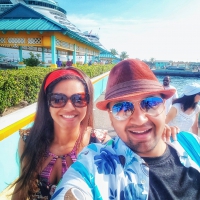 No Visitor Reviews Available