1st Floor Ocean Front Condo 3BR 3BA Sleeps 8
1st Floor THE closest Condo to the Beach, Pool & Lobby, meticulously maintained

You may only get one chance to visit the beach this year. So ask yourself: Why settle for cheap accommodations? Do you want to stay in a place that might just be more upscale than your own home? Do you enjoy a good night's sleep on a comfortable mattress with soft sheets? Do you get like being able to say "you won't believe the condo we stayed in?" If yes, read more.

Welcome to the most Luxurious Condominium on Okaloosa Island. This outstanding Mediterranean Style complex with its beautiful landscaping and deep, sugar sand beach is Kid friendly - two large pools (one heated yr. round) and two hot tubs.

Beyond the impressive building itself is the unmatched luxury of Unit 108. This incredible condo has been completely renovated and all furnishings are brand new. The bedding is premium; better than most people sleep on at home & the same that is used in Hilton Hotels. All appliances are new, all the TVs are new flat screen's with an enormous 65' TV in the den. The den is also outfitted with a sound bar & sub-woofer that connects to the TV and has a connection for your MP3 or Apple music player. The unit has been professionally decorated with high-end furnishings. Our Designer chooses a subtle coastal theme, rather than the 'souvenir shop' décor found in some condos. If you're a guest that can appreciate good taste, you'll feel right at home.

BRPH acquired unit 108 in the Spring of 2014 and sent our Designer in to work her magic. The unit had just been painted and re-carpeted. We chose to leave that alone but never quite felt the quality was up to our standards. Thus in early January 2016 repainted the unit with the same $25/gallon paint we've used in units, 312 and 401. We also replaced carpet with a faux wood, tile floor. In 2020 we did a major capital improvement project, replacing the couch & rugs, recovering the bar stools with sunbrella fabric and repainting the unit.

If your family includes little ones that constantly keep you on the move between the pool, beach and condo - or perhaps youngsters you just want to keep an eye on from a comfortable chair, consider this: for slightly more than a budget 3 BR unit, you can have one that requires no elevator, is very close to the pool, the splash fountain and the walkway to the beach. We installed a bar-height table and chair set so our guest can sit comfortably yet high enough to keep an eye on young ones at the pool or just look out over the crowd and view the beach. If your visions of a beach vacation include constantly going back and forth from the pool, to waiting on the elevator, to the condo and back again, perhaps it will be worth a little more to stay in 108 and enjoy the combination of luxury and convenience. Just leave that nightmare vision of being drug back and forth, kids in tow behind you. Its YOUR vacation too, why not actually enjoy it?

Beach Service for two is included with your reservation (2 beach chairs + 1 umbrella), during the warmer months. Just see the attendant near the foot of the beach walkway to get set up. They will gladly assist you in renting additional chairs as needed. Chairs may be rented in the off season by contacting La Vida Dolce (off season rentals are not included).

With this condo you'll skip the long lines that can form at check-in time for both the front counter and the lobby elevator. We'll give you a key code the day before you arrive and of course the elevator simply isn't required. You'll be on the beach while other guests are still lined up to get keys. Furthermore, Unit 108 is THE CLOSEST to the beach, pool and lobby. No other condo has better proximity to the property. If you seek to stay in the finest, most accessible and most highly desired condominium in the area, Unit 108 in the Azure is the one that you've been looking for.

The property features secured, covered parking, and it is also a half mile from the convention center and walking distance to several restaurants, shopping, and a great nightlife. Soon an upscale miniature golf course will be completed, right across the street!

We looked at every detail that makes for a great family vacation: How far is the walk to the beach? Where is the trash chute? How loud is the dishwasher? How can we assure the bedroom décor will please children, teenagers and young adults? Does the unit feel like an upscale beach retreat or a souvenir shop? Does the WiFi cover the entire Condo, including the patio? Vacations are precious time; most of us hope to visit the beach once per year. The best vacations we've taken were those that allowed us to live, at least for a while, at a higher style than we enjoyed at home. Thus our goal is to help guests enjoy the kind of vacation we like to take, where they are surrounded by comfort, style & convenience. After you stay in one of our units, please let us know how we did.


We're certain you can find a "bargain condo" for less. In our experience, bargain condos tend to have an outdated look and feel. Maintenance is often lacking. And they tend to test the definition of cleanliness. Sure, we ask a little more than the average owner. We also regularly inspect what we expect from our cleaning staff. We perform constant maintenance. We use a talented Designer so we can achieve a warm, appealing feel inside our units. And we have a presence on the condo owners board to ensure the entire property stays well maintained.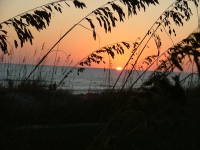 No Visitor Reviews Available