Stunning beach front 4BR 3BA Sleeps 10
Large 4 bedroom/3 bath ocean front condo. Professionally decorated & managed

Think about the best vacations you've taken. What made them special? Were the accommodations outstanding? Better than your own home? If you're a person that demands the best, perhaps we have what you are looking for. And now more than ever, The Azure just makes sense. The building occupies a large swath of beach yet is only 6 stories tall. That means far less people at the pool & on the beach, short elevator rides and less traffic on the roads. If you want to be in the crowds and traffic jams brought on by 30-story developments don't worry, drive another 6 miles and you're there.

This is one of 3 luxury condo's at The Azure owned by Beach Resort Properties. Like our other condos this unit is continually maintained and remodeled. All the electronics, furniture, accessories, bedding, appliances and patio furniture are rigorously inspected.  For bedding we used the same mattresses found in Hilton's top hotels.

This unit has been professionally decorated with all high end furnishings. The outdated, 10 year old furniture and decorations were removed. All flooring except the kitchen and hallway tile was replaced.

The kitchen is fully stocked so you will not need to bring anything but your swim trunks and flip flops. The dinning room has a large table with six chairs. There are also 4 bar stool chairs for extra seating. We equipped the den with a 65" Smart TV, connected to both cable and internet. In the 2 Master bedrooms you'll find King beds with Serta's finest mattress, luxurious high thread count sheets, 46" flatscreen TV's and Blu-Ray players. The Twin and Bunk rooms are also outfitted with Serta mattresses, 40" TV's and Blu-Ray players. The patio furniture has 4 barstool height chairs and table with 2 additional lounge chairs.

All the amenities come with a spectacular 3rd floor view of the Gulf of Mexico. We're certain you can find a "bargain condo" for less. In our experience, bargain condos tend to have an outdated look and feel. Maintenance is often lacking. And they tend to test the definition of cleanliness. You may only get a week at the beach this year and you shouldn't have to compromise. Sure, we ask a little more than the average owner. We also regularly inspect what we expect from our cleaning staff. We perform constant maintenance. We use a talented Designer so we can achieve a warm, appealing feel inside our units. And we have a presence on the condo owners board to ensure the entire property stays well maintained.

So who do you feel more comfortable renting from?

Beach Service for two is included with your reservation (2 beach chairs + 1 umbrella), during the warmer months. Just see the attendant near the foot of the beach walkway to get set up. They will gladly assist you in renting additional chairs as needed. Chairs may be rented in the off season by contacting La Vida Dolce (off season rentals are not included).

The property features secured, covered parking, and it is also a half mile from the convention center and walking distance to several restaurants, shopping, and a great nightlife.

We looked at every detail that makes for a great family vacation: How far is the walk to the beach? Where is the trash chute? How loud is the dishwasher? How can we assure the bedroom décor will please children, teenagers and young adults? Does the unit feel like an upscale beach retreat or a souvenir shop? Does the WiFi cover the entire Condo, including the patio? Vacations are precious time; most of us hope to visit the beach once per year. The best vacations we've taken were those that allowed us to live, at least for a while, at a higher style than we enjoyed at home. Thus our goal is to help guests enjoy the kind of vacation we like to take, where they are surrounded by comfort, style & convenience. After you stay in one of our units, please let us know how we did.

And if you need more room, see ECBYO Listing #6653  for information on our huge, 2000 square foot 4 bedroom extended condo. If you need less room, Unit 108 is our 3 bedroom unit located conveniently on the first floor. See ECBYO listing #6652 to learn more about it.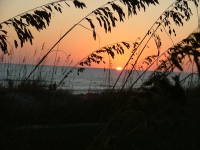 No Visitor Reviews Available