Waterscape C204 2 bedroom plus bunks
Welcome to C204!

Ground floor – Quick and easy access to pools and grills AND no worrying about your toddler climbing on a balcony!

Need more room? Ask about our newly purchased 3 bedroom condo in Waterscape, B202

C Building – Parking is just a few steps from the door which makes unloading and loading super easy! No fighting stairs or waiting for slow elevators on your vacation. The C building is furthest away from the beach but it's a nice walk through the pools and you have a stunning view of the palms that you love!

Entertainment:
* Daily beach service is included - no need to worry with transporting beach chairs and umbrellas to the beach every day.
* Cushioned patio furniture with access from the living room as well as master bedroom.
* Being a ground unit, kids can blow bubbles, play football\soccer, etc on the grassy area as you step off our patio.
* The kitchen is fully stocked to enjoy the grills that are only a few steps from the patio.
* Flat screen TVs and DVD players in every room including the bunk area!
* All units have free wifi.

Sleeping Arrangements – We can comfortably sleep 8 in our unit with a king bed in the master bedroom, a queen bed in the 2nd bedroom, 2 twin beds in the bunk area, and a new sleeper sofa in the living room.

Relaxation – Master bedroom has a HUGE tub along with a shower with sitting area. Our unit is stocked with a Margarita machine – mix your own concoctions to take to the beach or enjoy after a day in the sun! Keyless entry – no need to worry about keys during your stay.

Management – We operate and own our unit which means you have access to us should anything undesirable arise. We'll do our very best to ensure your vacation is as relaxing as possible!
We offer the payment options including paying by check, major credit card, or the payment system for your conveinience.

What do all Waterscape Condos have to offer?
* 3 Large Pools on multiple decks (1 is heated during cooler seasons) - perfect for sunbathing!
* 10-foot waterfall between levels
* Wading pool with water toys and water slide
* Dry play area with toys for toddlers adjacent to the wading pool
* Multiple BBQ areas - perfect for family gatherings, or cooking the fish you catch that day.
* Large fitness center overlooking main pool and waterfall
** Access to 490 feet of beach front
* Poolside food and drink service during the summer

Oklaloosa Island is quiet and peaceful with no high-rises yet easily accessible to Destin featuring mini-golf, amusement parks, chartered bay and deep sea fishing, Big Kahuna's water park, restaurants, shopping, and much more!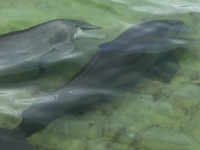 No Visitor Reviews Available