Waterscape B112, 5-star resort, Ground Level
Imagine a beachfront resort with such an amazing setting of pools that your family could step into its beauty and never care to leave.  Imagine a shallow toddler pool with a waterslide for your smallest children, a large zero-entry pool with a huge, swim-behind waterfall, and a a lily-pad water course for your tweens to monkey around on.  Imagine a lazy river that gently passes you around the immaculately landscaped grounds, and not one, but two beautifully set hot tubs, where you can leave your troubles behind and get some real rest and relaxation.  Imagine an onsite snack shack to purchase drinks or meals that you just don't feel like cooking, and an outdoor heated pool (heated seasonally) where you can enjoy the Florida sun in its full beauty, even on a chilly day.  Imagine this with barbeque grills and tables surrounding, where the adults can prepare dinner on the Weber gas grills while the kids playfully splash and swim right beside you.  Imagine leaving this all behind to step off the boardwalk onto the softest, white powdery sand in the world, for a front row seat to the pristine, turquoise waters rolling right up onto your toes. Quit dreaming, you have found it!  This is Waterscape.
B112 is located on the Florida Panhandle in the Destin/Ft. Walton Beach area and is one of the most popular resorts on the Gulf Coast.  We are a 2 bedroom, 2.5 bath condo with all the perks you'd expect from a 5-star resort, plus many that you haven't yet considered.  Waterscape B112 is on the ground level in the B building and is located in the desireable "inside" of the U, only 6 units back from the beach.  We are the first unit to the largest waterfall and largest pool.  Our centralized yet private ground floor location is highly desirable and considered a "prime" location within the resort. This unit is the largest of my 3 units and contains two master suites, which is perfect for traveling with extended family or another small family.  The living room and both bedrooms open to the spacious, sun-kissed patio which includes seating for 5, two lounge chairs, and a deck box filled to the rim with beach toys and floats. 
B112 boasts a fully-stocked kitchen making cooking-in a breeze (but of couse, cooking is optional!).  The living room has a full-size sofa that converts to a Queen size tempurpedic-topped sofa bed, a love seat, and an HDTV in case you need to spend some down time indoors.  B112 is colorful and classy, offers a beachy charm, and has been carefully designed to feel like home.  We have selectively stocked the condo with things you need, but nothing you don't.  We offer 4 beach chairs, a large 8' umbrella, and a beach cart to provide front-row beach seating at your leisure.  This equipment is also handy at the pools, as sometimes vacant chairs can be difficult to come by.  We furnish an all-terrain wagon for your little ones, a pack-n-play, high chair, and a variety of other items to make your visit easy. These are a few of the details, but I don't want to spoil all the fun!
Waterscape B112 contains the resort's only rope-lighted bunk room. Additionally, there is a cable-connected HDTV on both the top and bottom bunks (this is not standard in our resort).  This puts children in the right mood and makes them happy to climb into their sleeping quarters. Our bunk room features a light blocking and sound insulating curtain, making sleeping in a breeze. This unit sleeps 8 people comfortably.
Technical details about
B112:
Max occupancy is 8 (including infants).
Location, Location, Location.  This unit has it!
Large, fully stocked kitchen. (I mean business here.)
First Master BR has a king Sleep Number bed.
Its master bath has double vanities, a walk in shower, and a large bathtub.
Second Master BR has a king Tempurpedic bed.
Its master bath has a single vanity and walk in shower, and a large bathrub.
Light Roped Bunk Room has bunk beds, each with cable TV, and a light-blocking privacy curtain to keep your kids soundly sleeping.
Living room has a queen size Tempurpedic sofa bed.
Free Wi-Fi
Back-door, covered, gated parking
Keypad lock. No dealing with the front desk.  No dealing with keys.  No digging through a sandy beach bag trying to find a key to get in
Technical Details about Waterscape, just in case you missed them elsewhere:
HUGE Zero-entry pool with waterfall, Lily Pad course, and water gadgets
Lazy River with tubing provided
Quieter upper level pool, heated seasonally
AWESOME Toddler pool with waterslide and waterfall/water gadgets
Covered play area for kids (save the sunburn!)
2 very large hot tubs, snack shack, beautiful landscaping, gated parking, 24/7 security (a HUGE plus
Sundeck with loungers where kids don't care to hang out (interpret: peaceful sunbathing!)
Poolside gas Weber grills that are professionally cleaned daily
Kayaks, Paddle Boards, Sailboat, and Bikes available on the grounds
Beach Club (planned activities: movies at the pool, crafts, karaoke etc; Summer only)
Fitness Center on pool level with gorgeous views
24/7, boots-on-the-ground security
My name is Danica.  I am the owner, and I would love to welcome you into my favorite spot in the world.  You can rest assured that no one cares more about my property or my guests than me.  I am the best rated owner in this resort (out of 339 units!) because I take great care of my property and my guests. Vacations don't come with do-overs, so let's get this right, together!
I don't charge any fees except tax and cleaning.  Booking fees, resort fees, service fees, admin fees, parking fees...that's something you WON'T find here!
****I appreciate it when possible to fill the calendar right up to the next renter. If your dates cause unrentable gaps in my calendar (leaving one or two single nights only), I may not be able to accept your reservation.
****You can also visit me on my direct website at www.RentWaterscape.com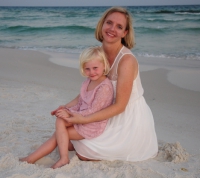 No Visitor Reviews Available